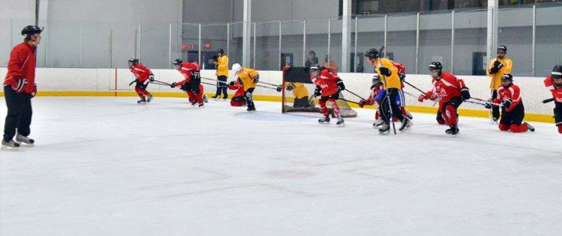 Ice hockey is an exciting sport of skill and teamwork. The Summer Lady can help you find the best ice hockey summer camp for your child . Players at all levels of the game experience an intense on-ice training program, integrated with an exciting off-ice and fitness program. Some summer Ice Hockey camps feature special lectures on preparatory and college admissions and recruiting practices. Players must possess basic hockey skills such as skating and stick handling. Camp instructors will focus on developing the skills of beginner level players, while improving those of intermediate — advanced level players and teach physical and mental development as part of the curriculum. . Hockey Camp is run by dedicated, knowledgeable, and hockey-skilled staff members whose first priority is to provide campers with the most exciting and beneficial experience. Specialized Ice Hockey instruction teaches valuable skills such as:
Off-ice Conditioning
Drills
Classroom Instruction
Passing
Equipment & Safety
And Much More!
One on one coaching is available, plus small group lessons and specialized clinics, making this a sleepaway camp experience that you will never forget. Let The Summer Lady will help you find the best summer ice hockey camp for your child.
Ice Hockey Summer Camp Information
The finest INDIVIDUAL ice hockey instruction is offered with an emphasis on skating technique, passing, shooting, goal tending, and overall good sportsmanship. Camp sessions usually run in 1 to 2 week sessions, and campers are grouped for instruction according to their skill level and age.
Ice Hockey Camps featuring individual instruction for backhands, one timers, slap shots, snap shots, wrap around and wrist shots are also available too. Your Child can be groomed to be a better ice hockey player during the 1-2 week ice hockey camp session making them a more skillful player with an improved attitude and sense of purpose.
Ice Hockey Sports Camp Programs

Ice Hockey Programs are designed to be fun, allowing a child to learn strong values while away at summer camp. There are many top rated Ice Hockey Summer Camps located throughout the United States, call The Summer Lady and find out which is best for you and your child or teen.