Summer Rock Climbing Camp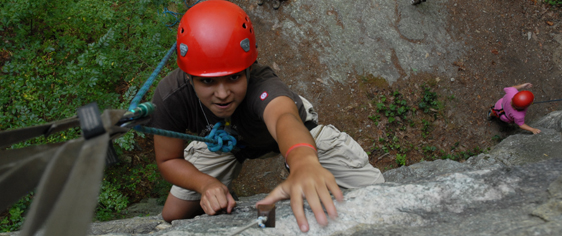 The Summer Lady can recommend programs that have rock climbing components. The Summer Lady focuses on recommending safe ,adventurous Teen Summer Rock Climbing Programs led by expert instructors who provide personalized instruction in small groups. Fears are conquered and insecurities overcome as experience is gained first hand repelling, climbing, setting anchors, practicing basic commands and using climbing equipment under the expert tutelage of rock-climbing experts.
Teen Summer Rock Climbing Program
Each region offers different climbing activities and wilderness adventures in the great outdoors in many locations. Different Teen Summer Rock Climbing Programs are offered for different levels of activity and adventure. The Teen Summer Rock Climbing Programs only use qualified expert local guides, so you can safely experience the best climbs. The rock climbing programs involve carefully planned itineraries that allow you to experience the very best of the culture, scenery, food and nature of the regions they visit.
Teen sleep-away & Outdoor Adventure Camps
Teens will spend their time learning and practicing climbing techniques and important skills such as belaying, rappelling, building anchor systems and more. The skilled staff members are not only experts in their field but understand that each teen learns new skills at their own pace. The staff leaders teach the importance of team building and cooperation on climbs.
Rock Climbing Camp Info
Contact the Summer Lady for further information regarding climbing camps.