Scuba Diving & Snorkeling Camp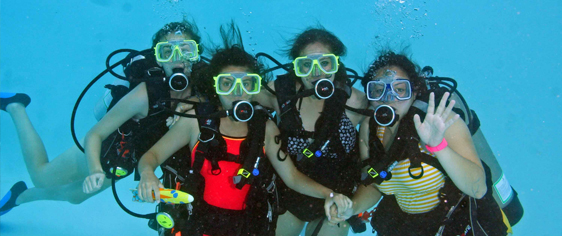 The Summer Lady's experts will help you find the best summer scuba camp and snorkeling camp for your child. If not already certified, Summer Scuba Programs will teach your child the skills needed to become certified with the internationally recognized PADI course. Once a student is certified, they will be able to dive to study exciting coral reefs and marine life. Your child will start his PADi training in a shallow water area and then advance to open water. Expert Dive masters will work with your child to help them advance to the next level at their own pace. Most programs are designed around a particular topic such as marine science, study of coral reefs and the study of marine animals. The programs vary in length from 12 to 28 days. The location of these programs are from the Caribbean to Australia.
Teen Scuba & Snorkeling Summer Tours
For most scuba or snorkeling programs, NO EXPERIENCE IS NECESSARY to participate and programs are offered to both beginner as well as advanced students. Teen Scuba and Snorkeling programs stress safety and team work. Students live on board sailing boats on many of the Teen Scuba and Snorkeling Trips. The students are learning under the guidance of a highly qualified staff in a safe ,coed, non-competitive environment. The programs run in length from 12 days to 28 days and their locations vary.