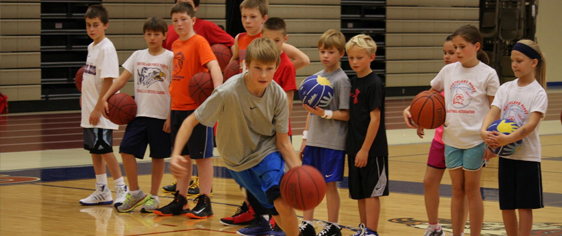 Summer Basketball Camps teach campers the fundamentals of the game. The fundamentals of basketball are the foundation for every individual play, offensive or defensive, and every move that players make. The best players have perfected the basics of the game. Players must learn footwork, how to handle the ball, dribble, basic dribble moves, pass and catch, shoot correctly, play defense, rebound, cut, screen, etc.
Also important are the mental aspects, conditioning, training and nutrition.
A Basketball Camp immerses you in the sport, giving you the kind of focused, intensive training that is essential to improvement. Over the course of the camp, a camper's self-confidence will grow along with their skills and overall appreciation of the game.
Regardless of your child's skills level, there are basketball sleepaway camps available for both new and advanced players. The Summer Lady will help you find the perfect summer camp program for your child.
Basketball Sleepaway Camps
Whether you are a younger player or a high school player, summer basketball camp offers an incredible opportunity to further develop fundamental basketball skills, take part in team play, instruction, lectures, all while having fun!
Basketball camps allow your child to meet new friends. Furthermore, it enables campers to gain a greater love for the game.
Basketball Summer Camps
Basketball summer camp children receive instruction from a carefully selected group of former and current professional players and coaches. Your child or teen will learn to develop the skills necessary to improve their play, achieve individual goals and learn a positive mental attitude. Basketball Campers are grouped for instruction according to their skill level, experience and age. Campers live in same sex dorm settings and a roomed according to age; basketball summer camps run from one week to full summer.
Summer camp basketball programs provide state of the art basketball equipment and technology allowing for the finest individual instruction in shooting, dribbling, rebounding, foul shooting, footwork, general overall strategy, and general good sportsmanship. Summer Basketball Camp sessions normally run 1 to 2 week sessions