Computer Camp/I.T. Summer Programs
The Summer Lady will find the best summer Computer Camp or IT camp for your child
The Summer Lady will find the best computer and IT camp for your student child or teen. Computer camp and IT camps will have courses for all ability levels in all the computer related fields. There will be classes for programming/coding, game design, robotics, 3D modeling and 3D printing and animation, web design, photography, app development, java programming, C++ programming, python programming, RPG game design and advanced coding. Summer computer camp and IT camps will be able to expand a students knowledge base and skills while engaging in projects and activities that are educational, fun and stimulating.
Tech and Computer Skills are taught by skilled instructors and mentors with years if not decades of experience in computer and information technology fields. Lessons are taught in a non-competitive, structured and nurturing environment for younger students.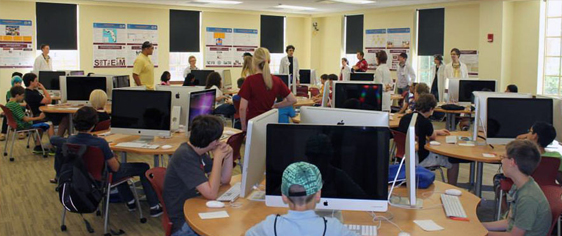 Computer Camps offer a wide variety of programs: Video Game Creation and Photoshop, 3D game design, Web Design and Flash Animation, Digital Video production, Robotics, special F/X and more. These domestic camps and programs are at many locations throughout the country and offer classes for both the beginner and the more advanced student. Learn More About STEM – Science, Technology, Engineering and Math.