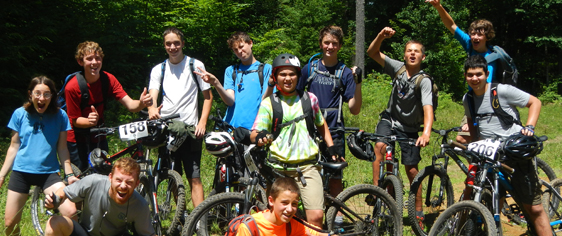 Teen Summer Biking Programs give teenagers the opportunity to discover the fun and excitement of bike touring with their peers while seeing beautiful natural landscapes and cities. Students on Teen Summer Biking Programs will gain independence and travel skills. There are different levels of difficulty on summer biking trips. They may be geared to the first time bicyclist or the more advanced rider.
Safety First on Teen Summer Biking Programs
The Summer Lady's recommended biking programs stress safety above all. In most summer biking programs students get a say in what the group does each day, from planning the details of the route to selecting the dinner meal . In addition to the leaders on the trips, the office staff stays in close contact providing support with the group at all times. When the biking trip is over, the kids always feel a great sense of achievement and fulfillment. Students have a wide variety of Summer Biking Programs and Summer Biking Camps with domestic and international travel to choose from. Students can also camp out, stay in youth hostels guest houses and community centers. There are trips for all levels of age, biking experience and ability. The trips vary in length as well. Teen Summer Biking programs offer a way to see the countryside and experience different cultures up close and personal. Groups are small and age appropriate and go at their own pace guided by experienced staff. There are touring trips and mountain biking trips. The groups on the summer biking programs are small, typically between eight and twelve participants with two or three staff. These groups each travel at their own pace and live at campsites and other similar facilities. The groups are put together by biking experience and also by age and ability.