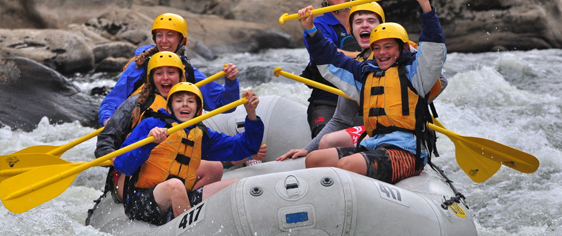 The Summer Lady has Teen Summer Rafting Camps and Programs, offering your teen spectacular wilderness scenery during their whitewater rafting adventure. The Teen Summer Water Rafting Programs offer safe, high adventure, whitewater rafting trips. Rafting Summer Programs give the campers unforgettable adventure whether it is their first time rafting or they are a veteran river runner. Previous rafting experience is not required for any of the programs. Every rafting trip has been designed to be safe, comfortable and accessible to all.
Teen summer water rafting outdoor programs offer great experiences for your teens
These Teen Summer rafting expeditions offer a broad range of trips. Each region offers different activities, magnificent scenery and adventures. Different Teen Summer Rafting Programs are offered for different levels of activity, experience and adventure.
Teen Summer Rafting Camp Adventure
On Teen Summer Rafting Adventures, students will learn to read the dynamics of the river, learn how to identify obstacles and learn different paddle strokes. Campers will also learn how to communicate with their crewmates and learn how to work as a team. Throughout the adventure, the camper will discover how to develop a leadership role.