Horseback Riding Programs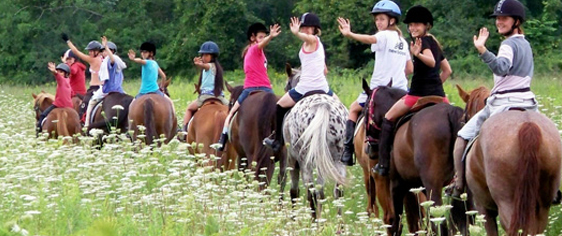 The Summer Lady can help you find the best horseback riding sleepaway camp that meets your child's needs. Horseback riding camps offer instruction to beginners as well as advanced riders. They will also learn stable management. There are opportunities for overnight trips with the horses as well as learning jumping skills in the ring.
Horseback Riding Summer Programs
Experienced equestrian riders and trainers lead horseback riding summer camps, and they guide campers through every step of the way: from caring for the horses, to saddling up and riding. Riding camps provide horse lovers experience with various riding disciplines: hunt seat equitation, cross-country jumping and polo. Horseback riding camps enable campers to experience success in graduated steps, promoting their self-esteem and confidence.
Horseback Riding Summer Camps
These Programs vary in length starting from 1 week to 8 weeks. Riding camps take campers ranging in age from 7 through 17. Basic riding programs are offered at all camps, with a choice of either Western or English riding style.
Horseback Riding camps also teach stable management. Riding camps offer campers the opportunity for overnight camping with the horses, cross-country courses with natural obstacles, in-ring riding, horse shows, and more.
Campers are taught in small groups based on ability, age and skill levels.