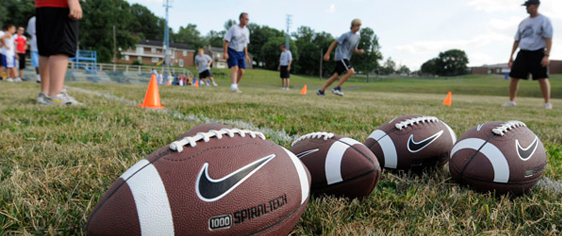 The Summer Lady will help you find the best summer football camp for your child. Campers will definitely improve their skills at an intensive summer football camp. Summer Football Camps immediately increase the overall performance and competitiveness of any football player at camp. With a dynamic curriculum that adapts to each individual player's age and experience level, this improvement carries over as an athlete leaves the youth ranks and begins their high school football career. While offering training and improvement at this level, the instruction each player receives is augmented in such a way as to improve and prepare the high school athlete as they look to make an impact as a college football player.
Football Camps Boost a Child's Confidence
Football camps also allow your child or teen to meet new friends, that otherwise he or she would never have the opportunity of meeting or interacting with. Furthermore, it enables individuals to gain a greater love for the game, because the more time and training an individual gets in a specific sport, the better he or she will be at that sport, and as a result he or she will be better prepared and enjoy it more.
Summer Football intensive training camps
Football Summer Camp Programs offer campers instruction with a carefully selected group of professional players and coaches. Summer Football campers will learn to develop the necessary skills to achieve individual goals and learn a positive attitude. Campers are grouped for instruction according to their:
Age
Skill level
Weight
Experience
SUMMER FOOTBALL CAMP INSTRUCTION AND BUNKING
Summer Football campers live in dorms or bunk settings with their own age group and gender. Summer Football camps combine elite football instruction with physical and mental conditioning for all-around development. Camper athletes receive position-specific coaching with digital video analysis to break down technique and make lasting improvements. Players will improve balance, movement, concentration, confidence, flexibility and power. Football camps have state of the art football equipment and technology available for the finest individual instruction. The football camp sessions usually run from 1 week to full summer.